All-Round Railway Manufacturer
that Shines on the Global Stage
Our track business sees us play a role as an all-round railway manufacturer that primarily designs and manufactures turnouts but also manufactures other products such as rail fastening devices, synthetic sleepers, and railway components to name but a few. We are also actively engaged in research and development aimed at reducing railway maintenance costs as well as the development of new materials in consideration of people and the environment, thereby contributing to achieving safer railway transportation. We are involved not only in domestic railway businesses such as railway projects conducted by JR and private railway companies but also in overseas railway businesses. We aim to be a global all-round railway manufacturer that actively marches forward both domestically and internationally while at the same time incorporating state-of-the-art technology.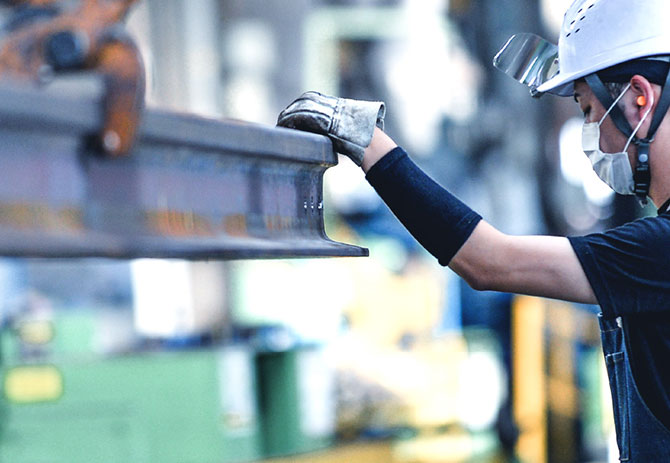 Development and Manufacturing of Various Track-Related Products
We primarily manufacture and design turnouts and also manufacture a wide range of other railway-related products such as rail fastening devices and synthetic sleepers. We boast all kinds of knowledge and expertise related to railways, so we can respond in a reasonable manner to requests from our customers.
Joint Technical Development with Our Customers
Through trust and collaboration with our customers, we develop new products such as level keepers that reduce railway maintenance costs, in turn contributing to solving railway-related issues and the development of railway technology.
Entering the Overseas Railway Business
We are on a mission to take Japanese railway technology overseas. Our products and technologies are also used in overseas railway businesses such as those of Taiwan, Bangladesh, Indonesia, Myanmar, and South Korea.
High-Level Technical Prowess and Development Capabilities
By combining the knowledge of the NHK Spring Group and the expertise of both our leaf spring and coil spring businesses, we continue to challenge ourselves as an all-round railway manufacturer with one-of-a-kind skills and equipment.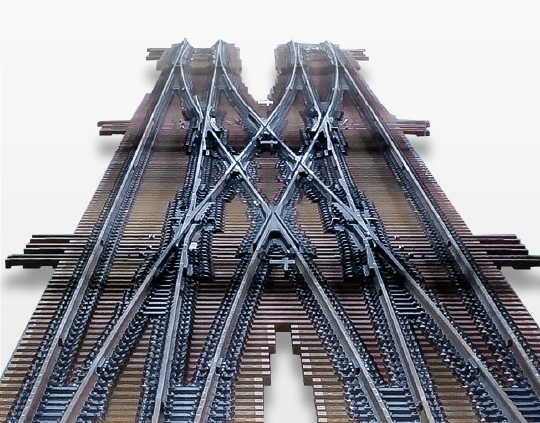 Turnout
A turnout is a device for safely changing the traveling direction of railway vehicle. For newly laid lines, we are involved from the point of on-site surveys, and can handle the whole process from rail machining, right through to assembly, inspection, and shipping.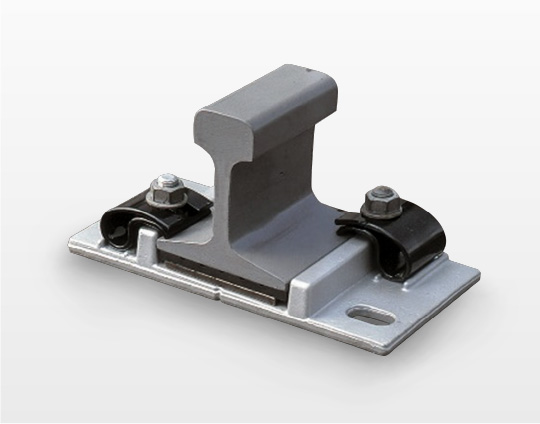 Leaf Spring for Rail Fastening
A leaf spring for rail fastening is used in a wide range of applications such as for railways (Shinkansen and regular lines), cranes, and elevators. We manufacture rail fastening parts using spring steel materials and deliver them to our customers in Japan and overseas.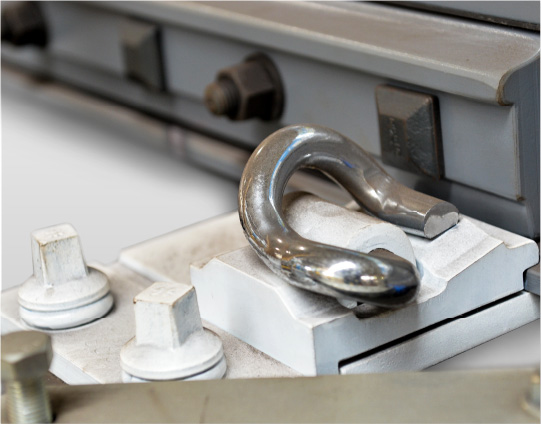 Pandrol Clip
This product is manufactured under our license agreement with Pandrol Track Systems Ltd. in the U.K. and is used to fasten rails and sleepers without the use of bolts. As rails and sleepers are fastened with the force of the spring, there is no need for bolt tightening, which in turn reduces the maintenance burden.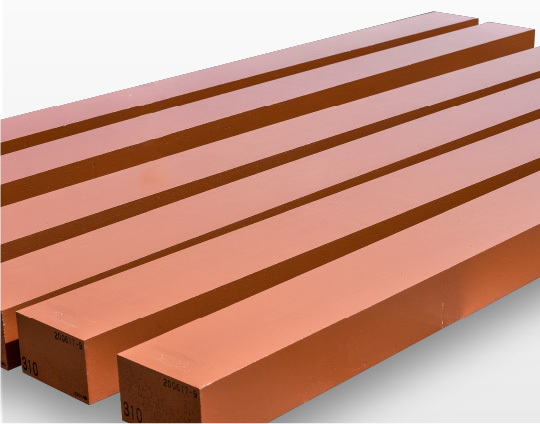 Synthetic Sleeper
We offer glass-fiber-reinforced synthetic sleepers (molded products) by impregnating unsaturated polyester with urethane resin foam. Our synthetic sleepers have been used by our customers for turnouts and bridges, and they have been rated highly for their ability to reduce noise and vibration.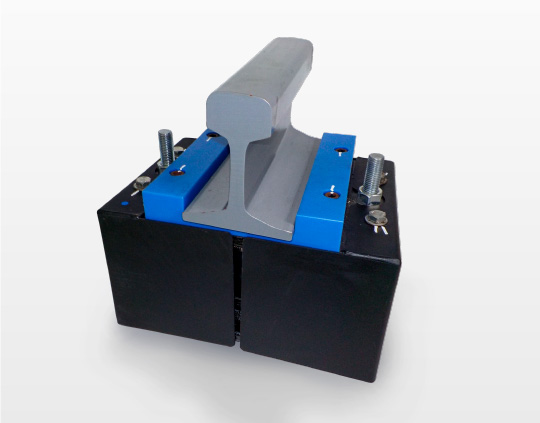 LevelKeeper
On ballasted tracks, crushed stones may sink due to train loads, causing the rail to rise up. The LevelKeeper is an automatic correction device that was developed to prevent this situation from occurring and to reduce the cost of railway maintenance.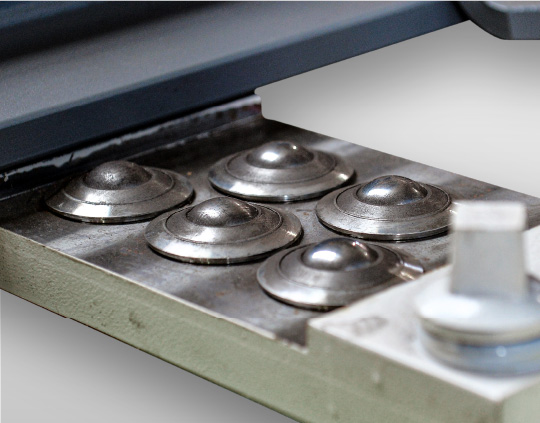 Bearing Floor Panel
This is a part within the turnout that is to ensure the rail is switched smoothly. Since the rail supporting part is a ball bearing, not only the panel can prevent the turnout from failing switching of the rail, but also the frequency of maintenance, such as applying lubrication, can be reduced.
Hokkaido Railway Company
East Japan Railway Company
Central Japan Railway Company
West Japan Railway Company
Shikoku Railway Company
Kyushu Railway Company
Japan Freight Railway Company
Japan Railway Construction, Transport and Technology Agency
Tokyo Metro Co., Ltd.
TOKYU RAILWAYS Co., Ltd.
SEIBU RAILWAY Co., Ltd.
Odakyu Electric Railway Co., Ltd.
Nagoya Railroad Co., Ltd.
Kintetsu Railway Co., Ltd.
Saitama Railway Corporation
Metropolitan Intercity Railway Company
Hakone Tozan Railway Co., Ltd.
Enoshima Electric Railway Company, Limited.
IZUKYU CORPORATION
Osaka Metro Co., Ltd.
Bureau of Transportation Tokyo Metropolitan Government
Transportation Bureau, City of Yokohama
Public and private railway operators across Japan
and others
※The companies listed above are in no particular order.